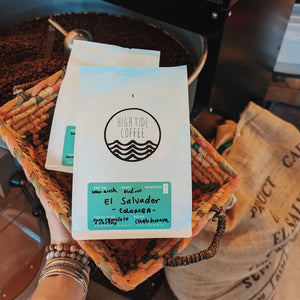 el salvador colomba - medium roast
Regular price
$23.00
$0.00
Unit price
per
FREE SHIPPING ON NEW SUBSCRIPTIONS
About the Farm:
The semi-washed process employed by Mario Valiente involves receiving the freshly picked cherries and introducing them into a water tank for several hours. The floated cherries are then moved to the depulper to remove the skin and fruit of the cherry. Once removed, the coffee will go through a demucilager that uses very minimal water to remove most of the mucilage on the parchment. After the coffee has been "semi-washed", the parchment is intentionally left in a fermentation tank with no water for 8-12 hours before finally making its way to the raised drying beds, where Don Mario slows the speed of drying down to 15-20 days on the beds. This
complex drying process brings out a lot of depth in what we would normally think of as a "washed" coffee!
The farm permanently employs 80 people and up to 210 people from nearby towns during the picking season. Aware of the need in the surrounding communities, Finca Colomba supports schools in the area, hosts medical conferences to provide accessible healthcare and distributes toys to children during the Christmas season.
Bag Size: 12 oz
Region: Chalchuapa
Farm: Finca Colomba
Process: Semi Washed
Roast: Medium
Altitude: 1500 m.a.s.l.
Cupping Notes:
Dark Chocolate, Caramel Fragrance, Earthy Notes, and a syrupy body.
---